Get to know our clinic
Let our friendly staff at our West End location welcome you. Our goal is to go beyond your expectations by giving you the most up to date, modern technology in dental care and equipment in a calm relaxed environment. Conveniently located in the heart of downtown west end Vancouver –  at 1743 Robson Street #201  (near Denman Street). Our focus is to make sure you have healthy teeth and gums. We deliver a wide range of  family dental services for all ages.
We recognize that each patient is different requiring customized personal treatment resulting in long term solutions including sedation dentistry the "Willow"way.
A great smile makes friends and happiness!
---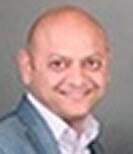 Dr. Nishant Goswami
Willow Dental Care West End is owned and operated by Dr. Nishant Goswami,
Our highly-skilled dental team is serious about providing the best treatment and care for their patients – in a fun and relaxed office atmosphere!
A Holistic Approach
We consider the head and face as a frame for the teeth. Taking a holistic treatment approach, he begins with a new patient exam that carefully maps your dental and facial structures, creating a comprehensive view of your needs. In this way, you and your doctor get a clear, informed basis from which to move forward with a treatment plan tailored to your unique circumstances.
Virtual Office Tour